INTRODUCTION
---
Color the dreary gray world of Groundless with Neon as you battle your way through monsters and overcome challenges. Jump down into mysterious depths to find new identities and defeat vicious bosses in this 3D Action-Platformer Roguelike.
Choose your identity before the run by choosing a mask that offer unique abilities to experience combat in a new way. Get stronger and unlock them all to head for the bottom of the world!
SHORT DESCRIPTION
---
You find yourself on an overgrown mountain pass. You are equipped with a melee-weapon and an ominous mask which gives you unique abilities and bonuses. The only way forward is to jump down into the misty abyss. Once you land on something stable, you start to see paths and traversable gaps within the foggy darkness.
Enemies and platforming challenges will be scattered along the path you take. Once you get to a larger area, numerous enemies will await you. Defeating all enemies with your abilities and combo attacks will reward you with a powerful item that will help you in the quest to reach the grounds of the abyss. The deeper you go, the better your rewards will become. But be careful! As you go deeper, the more dangerous the world around you becomes. Whenever you die you lose all your temporary progress. You will be able to improve your mask with all the items you collected throughout the run to make you stronger for your next jump into the abyss.
Afterwards you will wake up in your base, where you will be able to choose new masks for your adventures, buy new upgrades for yourself or the game world, refine your combat expertise in the training ground or just loosen up and enjoy being safe until your next attempt to reach the heart of the void.
Du befindest dich in einem alten verwucherten Gebirgsriss wieder. Du bist ausgerüstet mit einer Nahkampfwaffe und einer faszinierenden Maske, welche dir einzigartige Fähigkeiten und Boni gibt.  Der einzige Weg nach vorne, ist ein weiter Sprung in die nebeligen Tiefen. Sobald du landest kannst du durch den Nebel in der Dunkelheit zahlreiche begehbare Flächen erkennen. Monster und Herausforderungen werden entlang des Weges auf dich lauern.
Sobald du ein größeres Gebiet erreichst erwarten dich eine große Anzahl an Monstern. Besiege alle Monster mit deinen Fähigkeiten und Angriffskombinationen und werde mit mächtigen Gegenständen, die dir in deiner Suche nach dem Ende des Abgrunds helfen werden, belohnt. Je tiefer du gehst, desto besser werden die Belohnungen. Doch pass auf! Je tiefer du gehst, desto gefährlicher wird die Welt um dich herum. Jedes Mal wenn du stirbst verlierst du all deinen temporären Fortschritt. Du wirst in der Lage sein deine Maske mit den gesammelten Gegenständen für deinen nächsten Sprung in die Tiefe zu verbessern.
Anschließend wachst du in deinem Hauptstützpunkt wieder auf. Dort hast du die Möglichkeit eine neue Maske für deine Abenteuer auszusuchen, neue Verbesserung für dich selber oder innerhalb der Spielwelt zu kaufen, deine Kampfexpertise im Übungsgelände weiterzuentwickeln oder einfach nur zu entspannen bis du den nächsten Versuch wagst den Mittelpunkt der Leere zu erreichen.
Du befindest dich an einem alten verwucherten Gebirgsriss. Mit Dir eine Nahkampfwaffe und eine ominöse Maske, die Dir einzigartige Fähigkeiten und Boni verleiht. Der einzige Weg voran ist ein Sprung in den Abgrund! 
Als du landest, kannst du im Nebel verschiedene Plateaus erkennen. Monster und Kämpfe lauern entlang Deines Weges. Auf Lichtungen attackieren dich Monsterhorden. Besiege sie mit deiner Kampfkunst und erbeute mächtige Ausrütungsgegenstände, um Deine Reise zum Boden des Abgrunds zu vereinfachen. 
Je tiefer du gelangst, desto fantastischer werden die Belohnungen. Mit Ihnen kannst Du deine Maske vor dem nächsten Sprung in die Tiefe verbessern. Doch pass auf! Auch die Welt um dich herum wird immer gefährlicher. Wenn du stirbst, verlierst du all deinen Fortschritt. 
Nach erfolgter Mission wachst du wieder in deinem Stützpunkt auf. Dort kannst Du eine neue Maske für deine Abenteuer wählen, Upgrades für dich oder die Spielwelt kaufen, im Übungsgelände deine Kampfkunst trainieren oder einfach nur zu entspannen – bis zum nächsten Vorstoß in das Herz des Abgrunds!
UNIQUE SELLING POINTS
---
A 3D platformer about jumping down and fighting enemies in contrast to usually jumping up in platformer games
A Combination of 3D platforming and roguelikes, which no other known title has done
Colorful Neon elements in a dreary world gives it a spellbinding look
Every new Mask will offer a new way to fight and overcome challenges
The world is designed to provide a fresh gaming experience with every run
GENRES
---
Gameplay:

Theme:

TARGET PLATFORM
---

Controller-focused, but also controllable with mouse and keyboard
TARGET GROUP
---
Our target group are players that like to:
Overcome challenges
Have fast-paced action
Explore worlds
Get all collectibles
MoSCoW ANALYSIS
---
Must have

Player Character
6 unique Equipment mechanics
Simple platform mechanics & smooth player movement
1 Enemy
1 Map
Basic sound effects and music

Should have

3 Enemies
15 unique Equipment mechanics
Full SFX coverage
Basic Tutorial

Could have

More Enemy types
More Item/mask/platform mechanics
Currency to buy items and map/HUB upgrades
Challenges and map features
Polished animations

Won't have

Multiple playable characters
Online or co-op functionality
Multiple maps
Procedural map/terrain generation

RISK OF RAIN 2
---
Steam Description Excerpt:
SURVIVE AN ALIEN PLANET
Over a dozen handcrafted locales await, each packed with challenging monsters and enormous bosses that oppose your continued existence. Fight your way to the final boss and escape or continue your run indefinitely to see just how long you can survive. A unique scaling system means both you and your foes limitlessly increase in power over the course of a game.
DISCOVER POWERFUL NEW ITEMS
More than 110 items keep each run fresh and full of new challenge. The more items you collect, the more their effects combine, the more surprising some of those combinations might be. The more items you encounter, the more lore (and strategy) you'll discover through the logs.
UNLOCK NEW WAYS TO PLAY
Unlock a crew of ten playable survivors, each with their own unique combat style and alternate skills to master. Learn the secrets of the Artifacts to toggle gameplay modifiers like friendly fire, random survivor spawns, item selection and more. With randomized stages, enemies, and items, no run will ever be the same.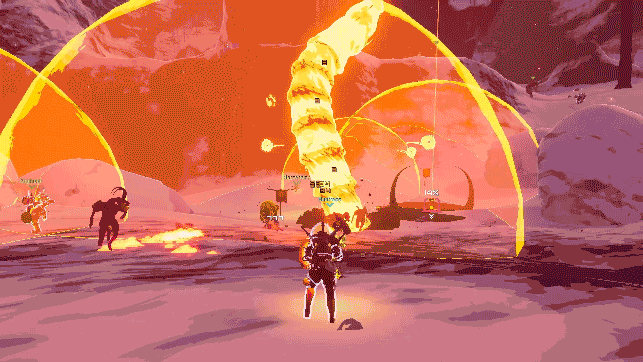 HADES
---
Steam Description Excerpt:
Hades is a god-like rogue-like dungeon crawler that combines the best aspects of Supergiant's critically acclaimed titles, including the fast-paced action of Bastion, the rich atmosphere and depth of Transistor, and the character-driven storytelling of Pyre.
BATTLE OUT OF HELL
As the immortal Prince of the Underworld, you'll wield the powers and mythic weapons of Olympus to break free from the clutches of the god of the dead himself, while growing stronger and unraveling more of the story with each unique escape attempt.
UNLEASH THE FURY OF OLYMPUS
The Olympians have your back! Meet Zeus, Athena, Poseidon, and many more, and choose from their dozens of powerful Boons that enhance your abilities. There are thousands of viable character builds to discover as you go.
BUILT FOR REPLAYABILITY
New surprises await each time you delve into the ever-shifting Underworld, whose guardian bosses will remember you. Use the powerful Mirror of Night to grow permanently stronger, and give yourself a leg up the next time you run away from home.
NOTHING IS IMPOSSIBLE
Permanent upgrades mean you don't have to be a god yourself to experience the exciting combat and gripping story. Though, if you happen to be one, crank up the challenge and get ready for some white-knuckle action that will put your well-practiced skills to the test.
A HAT IN TIME
---
Steam Description Excerpt:
A Hat in Time is a cute-as-heck 3D platformer featuring a little girl who stitches hats for wicked powers.
A little girl and her spaceship
In A Hat in Time you play as a tiny space-travelling girl with a big tophat. Her adventure is halted when all her fuel, the Time Pieces, is lost and scattered across a nearby planet. Hat Kid must now jump, fight and stitch new hats to make her way into every nook and cranny of this new world in order to restore her fuel and resume her journey. On her way, she'll bump into the menacing Mafia of Cooks, the goofy birds of Dead Bird Studio, the spooky shadows of Subcon Forest, and more!
Murder on a train! Parades! Trespassing in a movie studio?
Every mission in A Hat in Time is unique! At one moment you'll be solving the Murder on the Owl Express by finding clues and interrogating the locals, the next moment you'll be the band marshal in The Big Parade, or sneaking through the bird-run Dead Bird Studio!
Small child, giant worlds
Jump freely around in 5 massive worlds with new adventures to discover around every corner! Just like any child, Hat Kid loves to climb and explore, no mountain is too big for her sense of adventure. She can do multiple jump moves, as well as climb walls, and swing over gaps!
Cute hats, magical yarn and snappy badges
By finding and collecting rare magical yarn, Hat Kid can stitch new cute hats with a variety of abilities, including a witch hat that allows her to cook explosive concoctions, and a wooden ghost mask that allows her to peek into other dimensions. Hats can become even more powerful, by attaching badges that are found, sold and traded by the locals!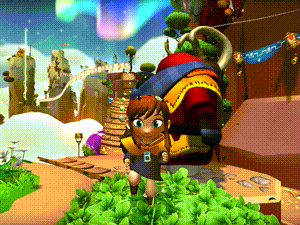 BINDING OF ISAAC
---
Steam Description Excerpt:
When Isaac's mother starts hearing the voice of God demanding a sacrifice be made to prove her faith, Isaac escapes into the basement facing droves of deranged enemies, lost brothers and sisters, his fears, and eventually his mother.

Gameplay
The Binding of Isaac is a randomly generated action RPG shooter with heavy Rogue-like elements. Following Isaac on his journey players will find bizarre treasures that change Isaac's form giving him super human abilities and enabling him to fight off droves of mysterious creatures, discover secrets and fight his way to safety.

The Binding of Isaac: Afterbirth is the massively updated expansion to 2014's roguelike of the year, The Binding of Isaac: Rebirth. Following Isaac one more time on his journey players will find bizarre treasures that change Isaac's form giving him super human abilities and enabling him to fight off droves of mysterious creatures, discover secrets and fight his way to safety.

This time, nothing is sacred.
Key Features:
Over 100 hours of MORE gameplay
Greed Mode - a whole new way to play, focused on risk/reward
Expanded main game - a new final area with a new final boss
Daily Runs – play a new official run, everyday!
Online Leaderboards - compete for highscore/best time
10 totally new and awesome challenges!
1000+ new room designs, as well as rooms
MONSTROUSLY UPDATED WEAPON COMBO SYSTEM!
120 new items--not counting tons of new pickups, chests, pills, bombs and cards--taking the item count up beyond 500!
Alternate soundtrack!
Tons of new secret transformations!
MOAR new achievements

WORLD
---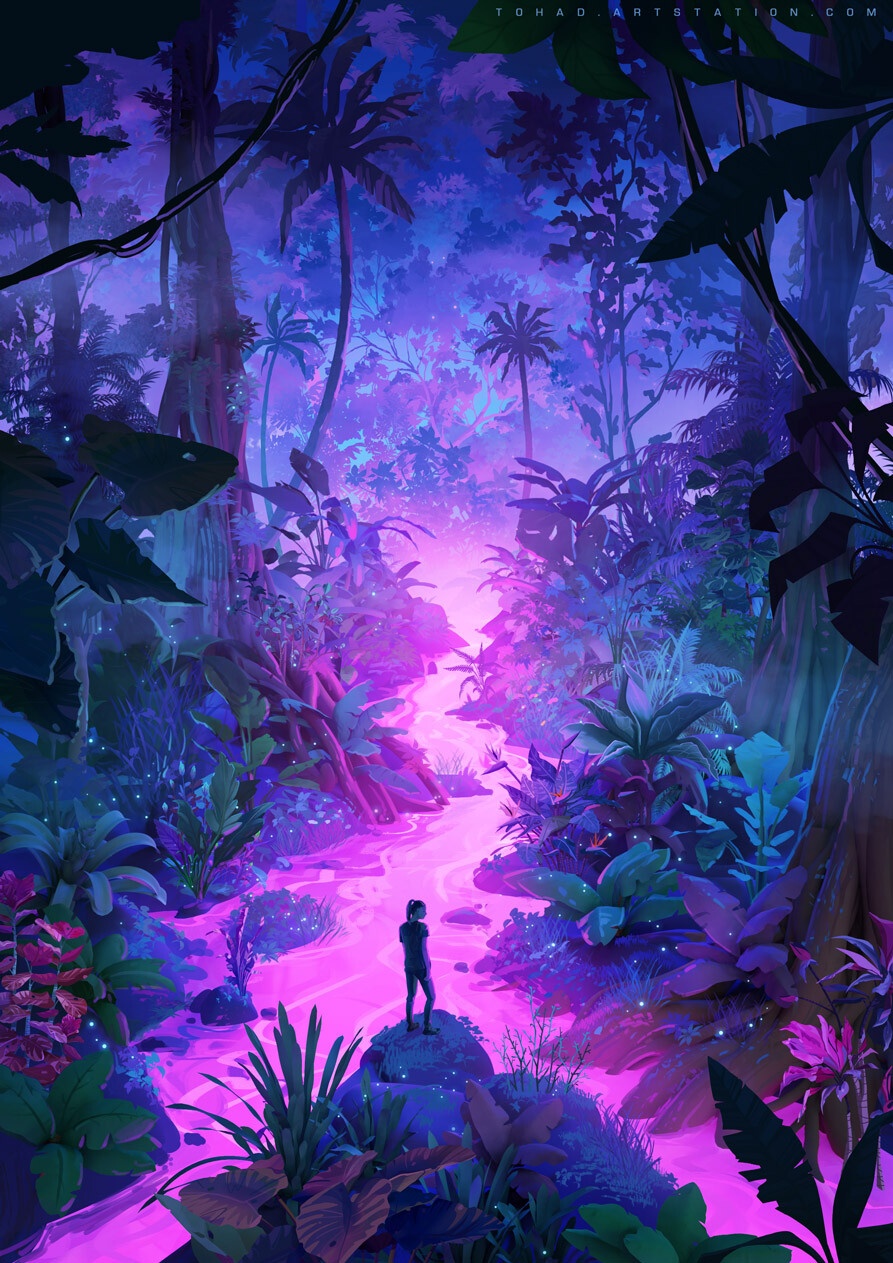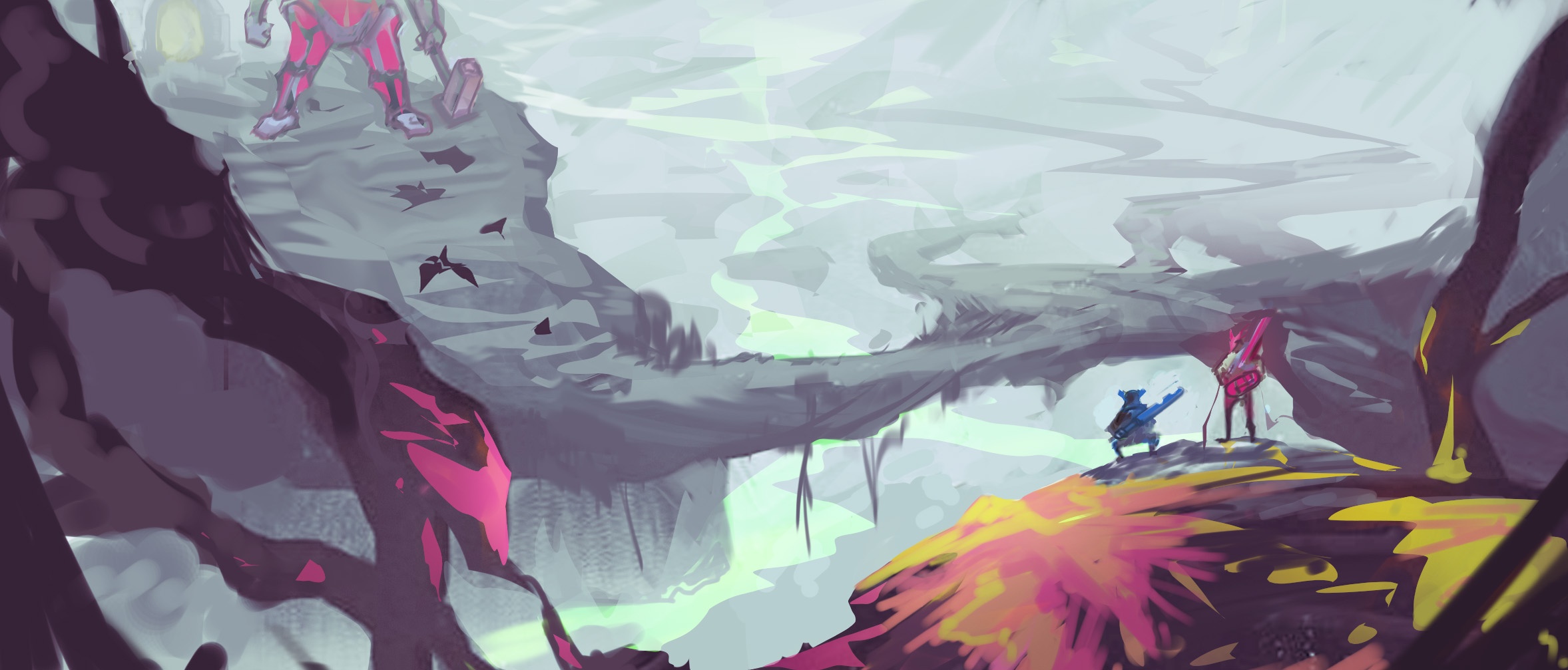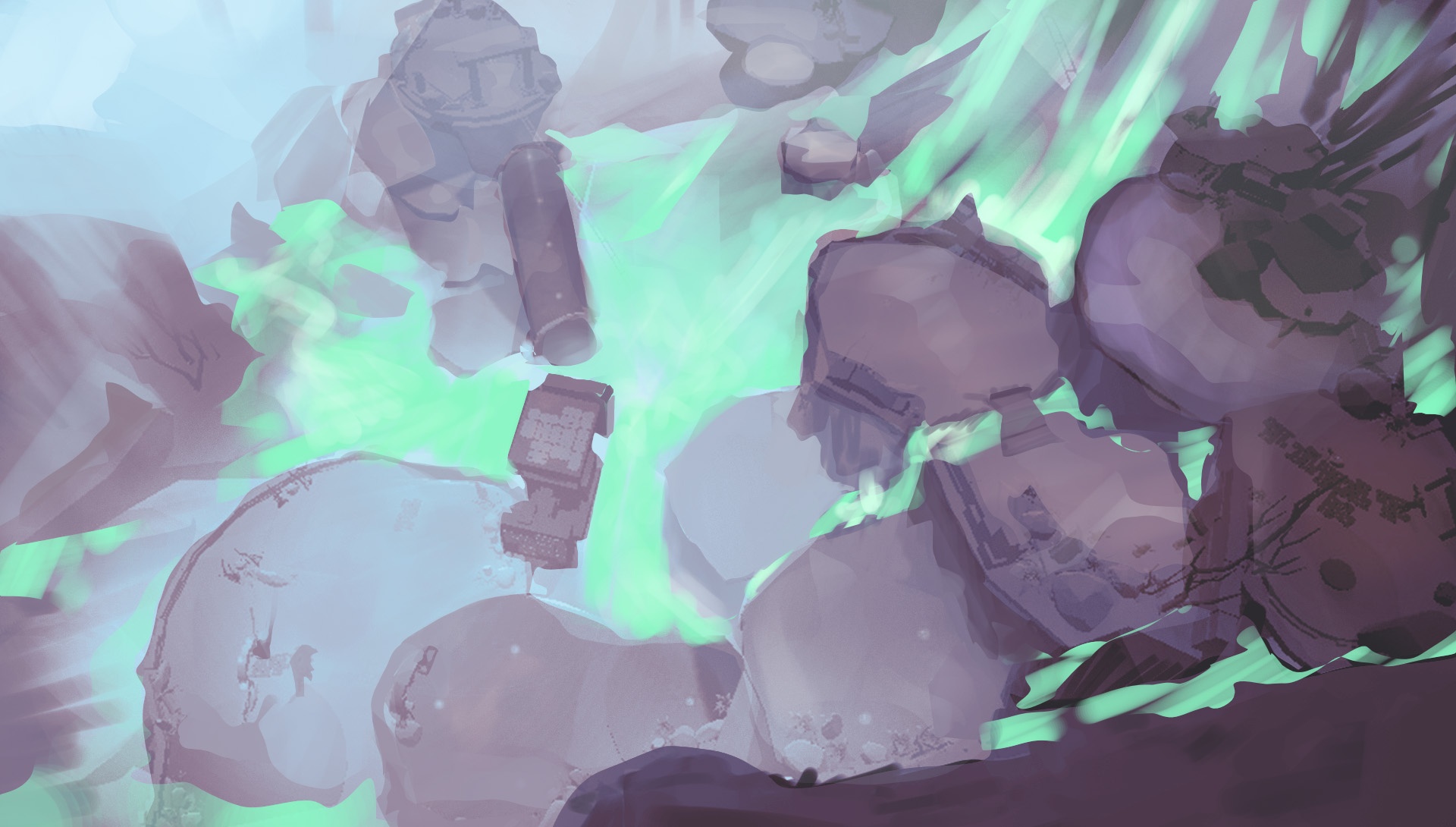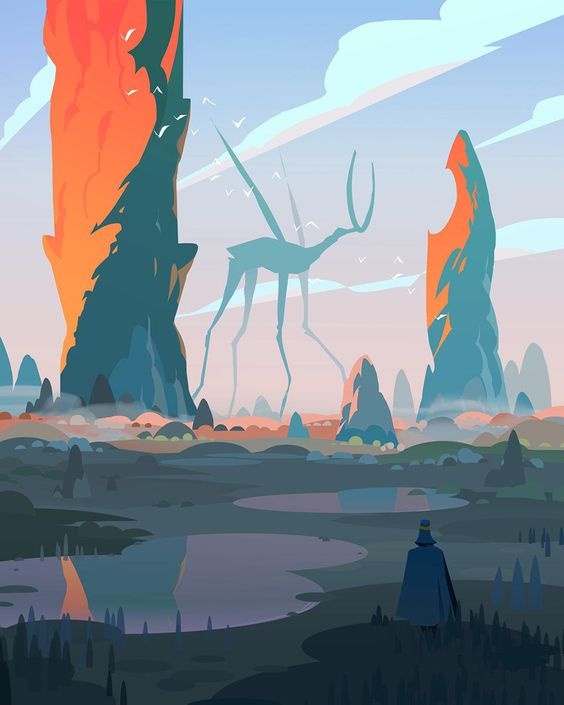 Oben links und unten rechts: Sylvain Sarrailh, COSIMO GALLUZZI
---
The world of Groundless is a dark one. Only little light makes it through the heavy layers of fog that have been towering between the gigantic mountains of the Tortus Mountains for centuries. In the middle of a rugged gorge is a base, one of the last fortresses in the darkness. From there, paths impassable for most people lead into the depths. Over small rocky islands, ancient rotten bridges and rough terrain, it goes down into the gorge further than anybody who came back was able to reach. It says that hundreds of years ago, the oldest god fell from heaven, right down into the deepest depth and with him, all the light vanished. Since then, humanity tries to reach his artifact of power, a mask, promising salvation and divine strength. Many people tried to reach it but only those who were wise enough to give up came back. 
Since the fall of the God, the world changed. Many animals became extinct, large parts of the fauna withered and the water changed into a thick, glowing soup. Those who were desperate enough to drink it became insane, those who did not found death. Some clans, however, who wisely prepared for catastrophes, fed on their supplies long enough to adapt. With the help of technical devices they were able to extract the energy from the neon-colored liquid and win it for themselves. In the beginning, only to feed and not to die of thirst, but soon they realized what incredible possibilities the Neon offered them.
They started to build technology fueled by the Neon. Lights and engines were fed by it and after a couple of decades they started to build tech, which strengthened their body. At first it was all about strength and practical tools which helped them in everyday life and at work but soon some people developed weapons which gave them unexpected power and masks that pumped the energy of the Neon directly into their bodies. These people were called hunters, and they were the first to dare to go into the depths of the canyon to seek for the artifact.
Not even for them it is an easy journey. And although the descent is lined with plants that glow and shimmer in the most beautiful colors, it is almost always deadly. A thunderous stream of the glowing fluid falls down the gorge - neither up nor down is there any end in sight. Now and then remains of the old civilization can be found, but the deeper it goes, the lonelier and colder it gets. The paths lead down into the mountain where the small streams that drip from the hard rocks are the only source of light. One wrong step from one of the islands and you fall into the endless depths.
But the trail is not even the greatest danger.
Both flora and fauna had to adapt to the new environment. Mutations developed, a symbiosis with technical features. Plants formed mechanical filters to feed on neon, creatures became more resistant and strengthened their limbs with minerals that were washed to the surface by the glowing liquid. The madness that took hold of so many people turned even the most peaceful animals into unpredictable and aggressive beasts. 
They are the rulers of this gorge, there is no way around them. They crawl on the ground, hide in crevices or fly through the foggy haze of the darkness. And woe betide anyone who gets too close to them. None of these creatures will ever retreat, killing them is the only option. However, this is easier said than done.
But who knows, maybe you will succeed where so many before you failed.

GAMEPLAY LOOPS
---
Core Game Loop

Meta Game Loop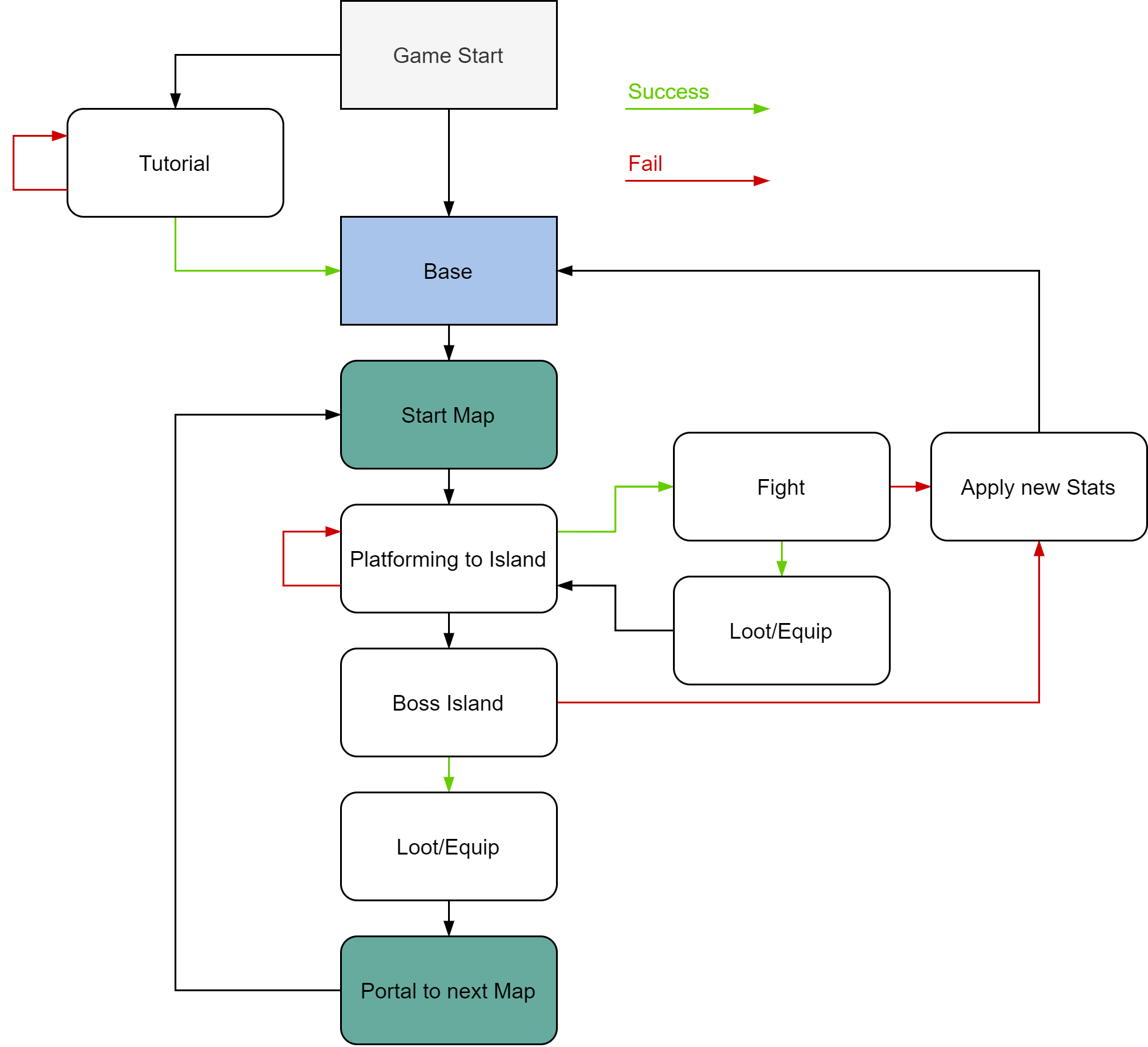 MAP DESIGN
---
After jumping down from the base the player lands in the actual play area. The map is designed mostly in vertical space. Starting high up in the mountain the player makes his way downwards to the boss area. On his way he encounters enemies and platforming challenges. 
The map consists of 'islands' of different size and look. Bigger islands are connected by smaller ones or other platforming elements like rope bridges or jump pads. Islands can be longer path-like sections or actual islands which are hanging as ledges on the mountain or even held in the air by neon boosters. Different types of traps can hurt the player on the way.
Further Map features which are distributed on the map:
Fountain
At the fountain the player can heal and refill his consumable. Also he can decide to change his mask.
Shop
The shop provides items, temporary item upgrades, health potions, and consumables.
Challenge Shrines
Challenge shrines are scattered over the map, randomly distributed between set spawn points. The player can activate them which will spawn several waves of enemies with increasing difficulty. There is several variations of shrines:
Challenge Shrine of Survival: If the player dies he gets rewarded with an item depending on how many waves he was able to clear.
Challenge Shrine of Doom: If the player dies his run ends. If he manages to kill all waves he is rewarded with a legendary item.
Challenge Shrine of Speed: Kill as many enemies as possible in a given time for a reward. More slay'n enemies result in a better reward.
Challenge Platforming Sections
Platforming areas challenge the player with movement puzzles and difficult jumps. At the end there is a reward depending on the time it took the player to complete the section. Falling down will re-spawn the Player at the start or a checkpoint depending on the length of the section.
Hidden Loot
Across the map precious loot is hidden like mask fragments or rare items.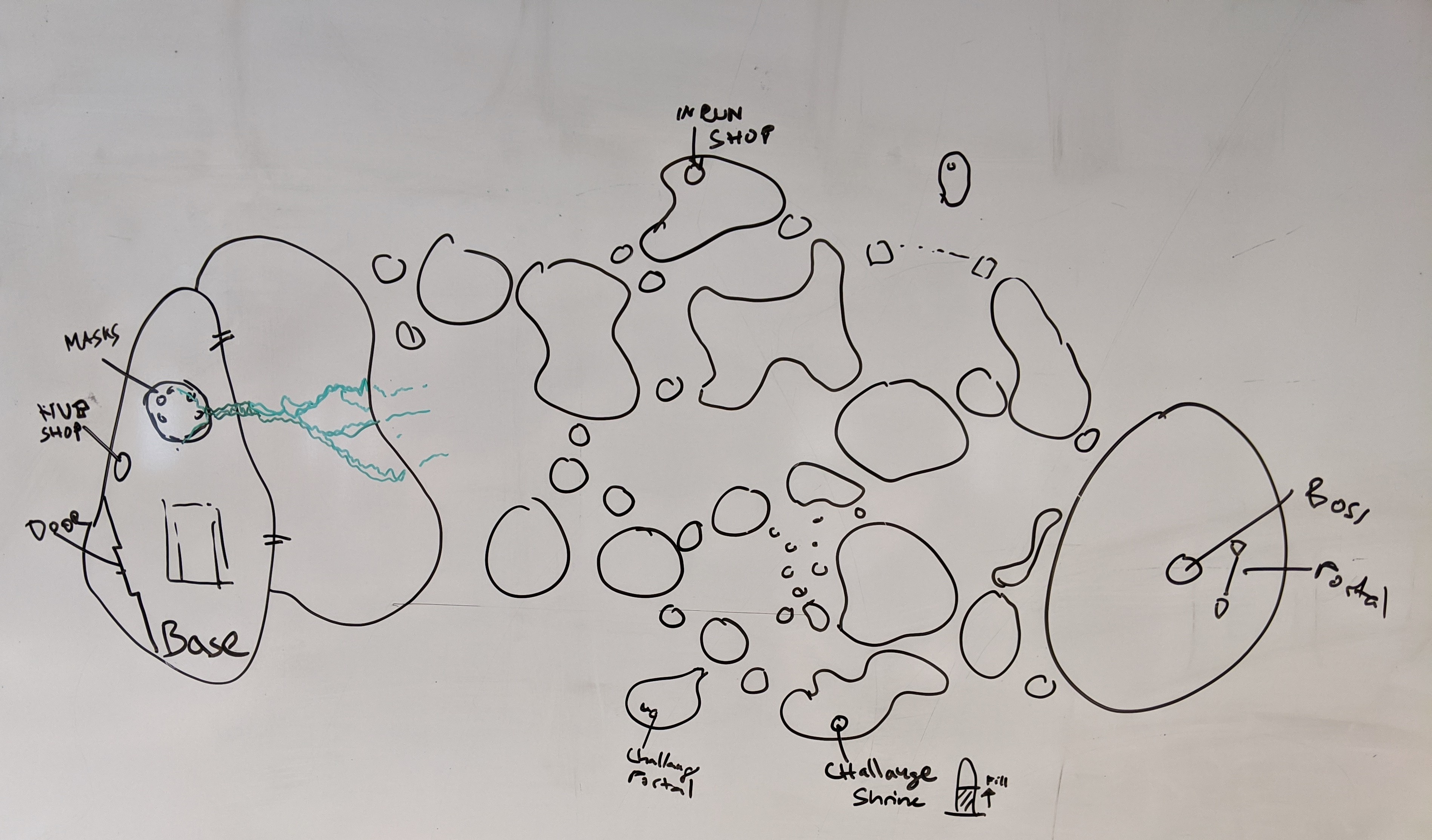 COMBAT
---
The combat in Groundless should consist of  fast-paced action sequences that enable the player to chain multiple moves into each other.
Currently 3 types of attack moves are planed:
3 Attacks that chain into a Light Combo (

L

)
2 Attacks that chain into a Heavy Combo (H)
Dash Attack (DA)
All these moves can be combined into each other, until the last Attack of either the Heavy or light combo is used.
Active Items and Consumables can be used at any time.
Combo Tree:

PLATFORMING
---
Situations where the player has to use their movement expertise to get to another place will be a common matter in the game.
The player will be able to overcome platforming segments with the character ground and air movement, jumping and dashing.
Platforming segments might arise while fighting enemies as well, but will be less common.
Examples for platforming situations:
stationary platforms/part of the maps

moving and rotating platforms

jump combinations

reaction games

running away from danger

falling rocks
Another usage for platforming segments is to collect small items, find unlockables and discover secrets.
EQUIPMENT
---
There are three kinds of equipment in groundless, masks, items (active/passive) and consumables. While items reset each run, masks are kept and can be improved to provide long term progress. Consumables can be unlocked and upgraded at the item shop located at the base.
Masks and items share a categorization:
Category
Color
Icon
Stats
Offense
Red



Attack Damage
Projectile Damage
Attack Speed and projectile flying speed

Defense
Green


Fortune
Yellow



Gold gain
Rarity+ Chance
Critical hit percentage
Chance increase

Neon
Violett



Splash damage
Critical hit damage
Ability amplifier

Utility
Blue


Each mask has only two of the stats shown in the table above per category.
MASKS
---
Masks in Groundless change the game-play in a similar way like character classes do in most other games. Each mask has special features that make the player play in a certain way. Some have special abilities, some distribute the passive stats in a new way. Masks can be acquired while playing in two ways. Either by finding fragments in hidden places and combining them once a set is complete or by defeating a boss. Before each run the player can decide which mask to wear and therefore what play-style he wants to use. A simple example would be selecting between a defensive mask with high HP and low ATT and an aggressive mask with low HP and strong ATT. The benefits and drawbacks of a base level mask always even out.
Mask progression
Masks progress in two ways:
Upgrading
Masks can be upgraded by defeating enemies. Each defeated enemy provides a certain amount of XP. Once a set amount is reached the mask upgrades to the next level. Each upgrade gives the mask better stats, the drawbacks stay the same.
Feeding
After finishing a run the player can feed the gathered items into the mask he used depending on their category. Every item provides a set amount of progression points based on its rarity. For example, if the item is categorized as "defense" and is of "legendary" rarity he can feed 10 progression points into HP and shield. Each point improves the stat by a set amount. The player can also choose to not spend the points and keep half of them as general points to spend them on any stat of any mask later on.
Mask Tiers
Masks have different tiers. The higher the tier, the harder it is to play.
| Tier | Description |
| --- | --- |
| T1 | Easy To Play, no need to read the mechanics of the mask |
| T2 | Small mechanic details worth reading and thinking about while playing |
| T3 | In-depth mechanics whole character is based around. The player needs to fully understand and think about it while playing. |
| T4 | Extremely challenging builds which combine high risk and high reward game-play with a high skill ceiling. |
EXAMPLE
(ICON)
Devils Skull (Tier 1)
Base level

(+) Increases the Damage of your Character throughout the run and burns enemies when damaging. This effect does only stack whilst being in-run.

(-)  Enemies can steal your Stacks on-hit. Killing those will restore your stacks.

Lvl. 1
Killing and enemy increases your Attack Damage by 1
Lvl. 2

Killing an enemy increases your Attack Damage by 1.

Hitting enemies applies a burn effect that deals 10 Damage each second for 2s

Lvl. 3

Killing an enemy increases your Attack Damage by 2.

Hitting enemies applies a burn effect that deals 10 Damage each second for 10s.

Category
Stats
Offense

Attack Damage
Attack Speed and projectile flying speed

Defense
Fortune

Critical hit percentage
Chance increase

Neon

Critical hit damage
Ability amplifier

Utility
ITEMS
---
Items can be found during runs by either killing enemies or finding them at hidden places. The player starts the save game with a rather small pool of items to not confuse him and give him something to look forward to as he can unlock more items by playing. An item can be unlocked by completing small challenges. Less complex items demand easier challenges like "deal 1000 damage" or "die 20 times" which can be unlocked by simply playing a lot. More complex items have harder challenges like "beat boss 1 in under 2 minutes", "kill a boss with less than 1% hp left" or defeat 5 enemies simultaneously". Besides visual information like names and icons items have following attributes:
Effect and stacking effect
Every item that the player finds will give him bonuses on his stats.  If a player finds more than one copy of an item in a run, its effect gets stacked up to a maximum of 3 copies which improves its effect. If an item is found 4 times it evolves to an advanced version with an additional effect. In this example the stacking effect is "Attack heals +1 hp". Apart from the empowered version, the improvement is linear. With each stack, the item is worth 1x, 2x, 3x, ... the amount of progression points.
If the player gets an item a 5th time it will be the base version which can be stacked again.
Upgraded Item
Items can be permanently upgraded to provide more end-game possibilities, strategies and a feeling of greater power. Upgrading is expensive and can be done at the upgrade station at the Hub.
What stats do these upgrades give
Description
Each item has a short description that explains the effect of the item in simple words.
Rarity
Items can have the following 4 rarity levels which can be found on islands of different difficulty:
Rarity
Progression Points
Effect of Rarity
Can be found on...
Common
1
The higher the rarity the better are  the  stats it provides.



Easy and medium islands 
Uncommon
3
Medium and hard islands
Rare
5
Hard and Boss islands
Legendary
10
Boss islands and hidden places
Active/Passive
Active items can be used by the player by pressing the assigned button while passive items passively boost the stats of the player in many different ways. Active items have an activation cost which stands for the amount of neon it consumes on use. While active items consume neon, passive don't. The player can loot and stack as many passive items as he wants, active items are limited to one at the time. Active items can be stacked and empowered like passives. The player can decide to swap his active item for another but he will loose all stacks he collected during the run.
Finding Items
Items can be found when defeating enemies or completing platforming challenges. Each drop has 3 Items whose category is random, the rarity depends on the difficulty of the island. For example, if the island is a medium hard one, most likely all three items have uncommon rarity. Occasionally one or more items are of one grade higher rarity (rarity+). The player then has to choose one of the items to keep.
EXAMPLE
| | |
| --- | --- |
| Name | Bulwark |
| Active/Passive | Passive |
| Rarity | Common |
| Category | Defensive |
| Activation Cost | none |
| Effect | Max HP +30 |
| Stacking Effect | Max HP +30 |
| Empowered Effect | Max HP +150 and a chance to root the enemy |
| Description | The bulwark improves the players max HP |
CONSUMABLES
---
The player can take one consumable per run with him. Consumables are kind of active items with a passive effect, like restoring HP. Consumables have a cooldown-time. 
GAME PROGRESSION
---
The player should be eased into the game, providing more difficulty later on.
For this game, difficult parts should also be available early on, because the same map is run multiple times to offer engaging and also new map features throughout the whole playtime.
Stats for items should increase linearly per level, so that effects from items can benefit from each other more, so longer runs with more items will result in a larger impact that items can offer.
A power spike should occur quite early in the game from collecting items and defeating enemies, so that no "very good" runs are needed for fast progression. Later on, the player will need better personal player skill, higher stats and good item builds to easily progress further. Further grinding stats or improving their own playstyle and item decisions will lead to further progression(i.e. unlocking new features).
BASE
---
The base is the area where the player hangs out between runs and manages his masks and items and tests abilities.
The Fountain is the spring of neon all tech and masks at the base are fed from.
Found Masks sit on pedestals at a temple-like structure. The player can select which one to use for the next run and apply progression points at the middle of the platform.
Defeated monsters can be found as statues in a garden. Statues have signs which can be read for more information like weaknesses and attack moves.
Information about items can be read at the Item Codex.
The Shrine opens once the player found all masks. Inside is an altar where map modifiers can be applied.
At the Shop the player can buy upgrades for the base and map.
At the Item Upgrade shop the player can upgrade items so he directly finds empowered versions of it. Or buy a chance to directly find empowered items. Also he can unlock and upgrade consumables.
The Item Chest gives the player the opportunity to try out items and builds by providing all items the player has unlocked so far. The player can take as many items as he wants from the Chest. No items will be brought to a run.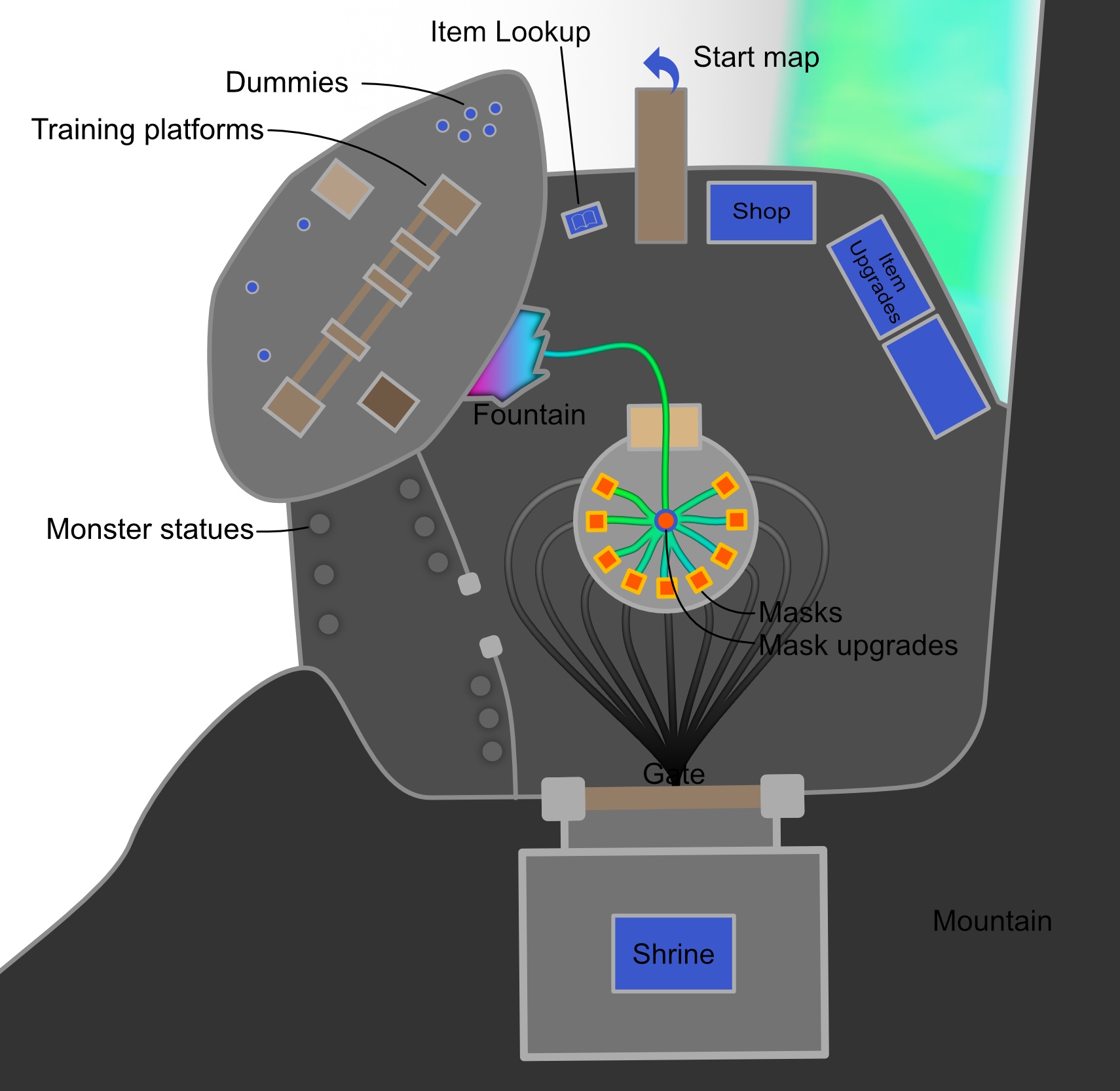 TUTORIAL
---
Groundless has a tutorial where a 'first-time-player' can learn the Core Gameloop and basic mechanics. When starting the game for the first time the player sees a splash screen which requires him to continue. Afterwards he lands directly in the tutorial. He will find himself on an island with two paths in front of him. The most basic controls are shown in a diegetic way or by UI boxes. Both paths will eventually merge again and on both the player had to fight some weak enemies, got rewarded with an item and had to traverse simple platforming elements.
Equipped wit his new item the player has to fight a mini-boss which will be a bit harder than the normal monsters. This boss drops the player his first mask he has to equip. He then walks along the path and has the base in front of him, covered in thick fog that clears up on approach.
The next time the player starts the game, he will land directly in the base after the splash screen.
CAMERA
---
A Third-Person Camera follows behind the player.
The distance is variable when moving the camera to look from above, or to look from below.
The camera mustn't clip through the player. If the camera clips through the environment, the environment should render in a transparent way, to make it see-through.

30 SECONDS OF GAMEPLAY
---
Context and Setup
You find yourself between the gigantic cliffs of Tortus Mountains. You are able to see shimmering lights in the distance and glowing tropical-looking plants in a rocky mountainous path. Neon rivers stream along the rocks and crevices of the area, creating strong currents and small waterfalls wherever they flow. A gloomy but soft atmospheric tune is playing.
You just cleared an area of enemies which rewarded you with an item that increased your attack damage by 30 points. Of the 70 Max HP, you only have 50 Health Points left.
Looking ahead you are able to see an old worn-down wooden rope bridge, on the right you see an entrance to a cave with a hint of bright red lights reflecting from the walls.
The camera is positioned behind you in a third-person view, and you are able to rotate it freely around your playable character.
---
Player Actions
Feeling adventurous you decide to cross the old wooden rope bridge.

While moving to the bridge you realize that the bridge is moving slightly from side to side and that wooden boards on the bridge are missing, creating gaps.

As you come closer to the bridge you try to internalize the swinging of the bridge to prepare for the upcoming jump sequence.

You run up to the first gap, hitting the jump button, jumping over the gap and landing on the next wooden board.

Continuing to run you try to adapt to the bridges movement and adjust your angle to be able to jump over the next gap.

A larger gap longer than the length of one jump is facing you. Jumping and using your dash in the air makes you traverse this gap as well.

After landing on the last wooden board of the rope bridge and setting foot on stable land again, you see an area with an unlit torch ahead.

You decide to approach the torch and run towards it.

Once you are in approx. 5m range of the torch, 3 Mosquito-looking like creatures which have a sword-like mouthpart appear around you - the atmospheric tune changes into a more full and exciting tune, signalling battle.

Deciding to jump straight into action, you turn to the closest mosquito enemy and press the dash button followed by the light attack button, resulting in the character dashing forward towards the mosquito and doing a quick melee attack dealing 15 damage and splattering colorful liquid to the ground (You see the number floating above it's head and a bar indicating it's current health points appears).

Meanwhile the other 2 mosquitoes are flying towards you.

You follow-up with a light attack by pressing the light attack button dealing 17 damage and splattering colorful liquid to the ground (You see the number floating above it's head and the health bar shows around 50% HP).

While hitting with another light attack you see one of the other mosquitoes stopping in it's flight and light up, you hear a noise coming from it (Signalling that it charges it's dash attack).

You hit the mosquito with your 2nd Light Attack Combo dealing 25 damage, knockbacking the mosquito and splattering colorful liquid to the ground (You see the number floating above it's head and the health bar shows around 20% HP).

You decide to walk out of the line of the mosquito that seems to charge up an attack, meanwhile the third mosquito is charging it's attack, lighting up and making a sound.

The mosquito that was charging an attack charges forward, trying to stab you with it's sword and missing you, stopping near the third mosquito.

You decide to finish the first mosquito by dashing back to it and attacking it dealing another 15 damage and splattering colorful liquid to the ground (You see the number floating above it's head and the health bar is completely empty). The mosquito falls to the ground releasing more colorful liquid and slowly disappears while making a sound.

The third mosquito is charging into you with it's sword-shaped mouthpart and dealing 12 damage to you. You see your health bar depleting and hear your character crying out.

You activate your active item that is able to pull 2 enemies together, to chain and pull the 2 mosquitoes together, making them get pulled in the middle of the 2 positions of where they were, interrupting all the activities they were doing.

You decide to get closer to the 2 mosquitoes, using a well-placed dash attack to be able to damage both at once. Hitting both with your dash attack deals 15 damage each and splattering colorful liquid to the ground (You see each number floating above their head and a bar indicating their current health points appear).
You hit the Heavy Attack Button to chain the dash attack into a heavy Area of Effect hit, striking a large AOE effect on the ground, releasing waves of energy around you dealing 20 damage to both mosquitoes interrupting them and splattering more colorful liquid to the ground (You see each number floating above their head and a bar indicating their current health to be at around 50%).
Thinking that the second heavy attack might not deal enough damage you decide to use a light hit on one of the mosquitoes instead.
Hitting the light attack button the first light attack is used, dealing 17 damage to one mosquito and splattering colorful liquid to the ground (You see the number floating above it's head and the health bar shows around 25% HP).
You decide to use your second heavy attack and finish your combo chain, using a more powerful strike on the ground, releasing large waves of energy around you, knockbacking the mosquitoes and dealing 30 damage to each releasing colorful liquid (You see the number floating above each mosquitoes head and the health bar is empty for one and around 5% for the other mosquito).
The mosquito with no HP left falls to the ground releases more colorful liquid and slowly disappears, while making a sound.
The one mosquito left, a few meters away from you starts to charge up it's attack again, lighting up and making a sound to signalize it's charging.
You try to get close to it as fast as possible, dashing towards it and striking it with a light attack dealing 17 damage and splattering colorful liquid to the ground (You see the number floating above it's head and the health bar is empty).
The mosquito has no HP left and falls to the ground releasing more colorful liquid and slowly disappearing, while making a sound.
After all mosquitoes died, the torch lights up in a colorful blue flame and a shimmering orb appears close to you.
When being close to the shimmering orb, a small window appears with 3 icons that represent items.
You are able to select and take a closer look at the 3 items, that each have a category showcasing it's type of use and a rarity.
You take a closer look at the item on the left, which has an effect to reduce the incoming damage you receive by 5 per hit(to a minimum of 1).
You select the next item which has a chance to release a colorful orb dealing 10 damage, whenever you hit an enemy with a melee attack.
You select the third item which seems to be an active item that is able to spawn a small colorful orb that circles around you, deals 10 damage on contact, and lasts for 10 seconds on use. You seem to be able to replace your current active item with this one, or using this item to upgrade your current active item.
You decide to get the item that can release a colorful orb whenever you hit an enemy with a melee attack and select it.
Pressing the Interact Button will make the shimmering item orb disappear and reward you with the selected item.
You look around, seeing small torches lead a way further into the depths.
You decide to go further into the void.

OVERVIEW
---
| Action | Controller | Keyboard+Mouse |
| --- | --- | --- |
| Walk / Run | Left Stick | W,A,S,D |
| Jump | South Button | Space |
| Control Camera | Right Stick | Move Mouse |
| Interact | South Button | E |
| Dodge | East Button | Ctrl |
| Attack | West Button | Left Mouse Button |
| Special | North Button | Right Mouse Button |
| Use Active Item | Right Trigger | F |
| Use Consumable | Left Trigger | Q |
| Select item | Left Shoulder Button, Right Shoulder Button, D-Pad | Move Mouse / Arrow Keys |
| Show more Information | Select/Back Button | Tab |
| Toggle Camera Zoom | Right Stick Press | Mouse Wheel |
| Open Menu | Start Button | Esc |
| Confirm (Menu) | A | Enter / Left Mouse Button |
| Back (Menu) | B | Esc / Right Mouse Button |
| Navigate (Menu) | Left Stick, D-Pad | Move Mouse / Arrow Keys |
| Scroll (Menu) | Left Trigger, Right Trigger | Mouse Wheel |
| Previous / Next Tab (Menu) | Left Shoulder Button, Right Shoulder Button | Use Mouse |
| More Information (Menu) | Select/Back Button | Tab |
| Close Window (Menu) | Start Button | Esc |
CONTROLLER
---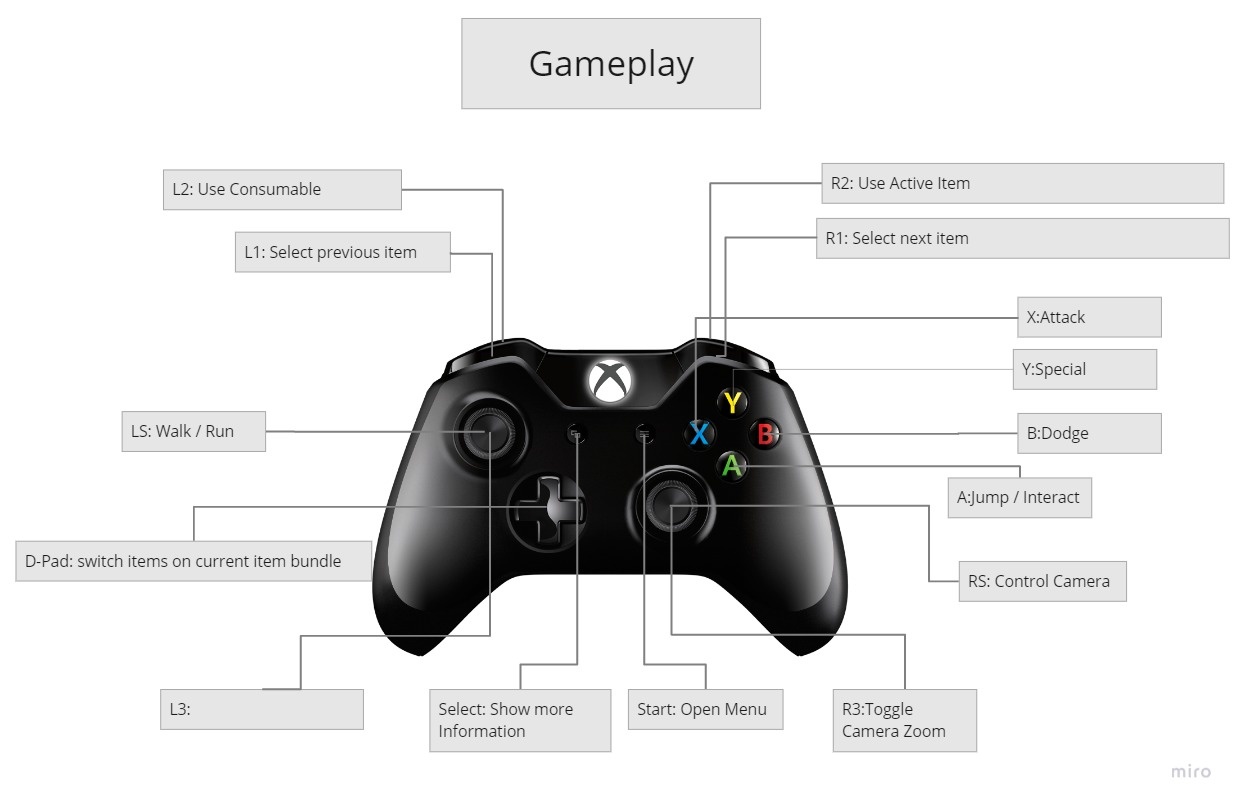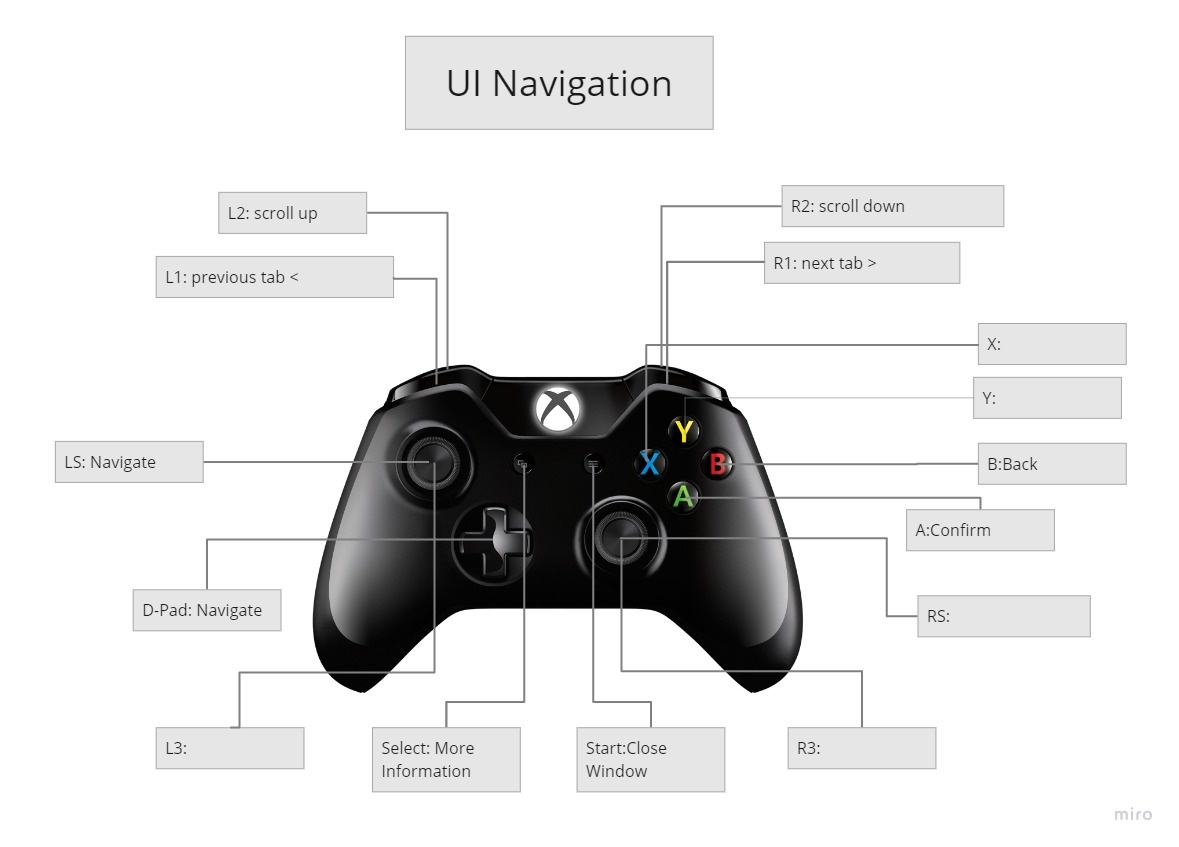 KEYBOARD
---


User Interface
---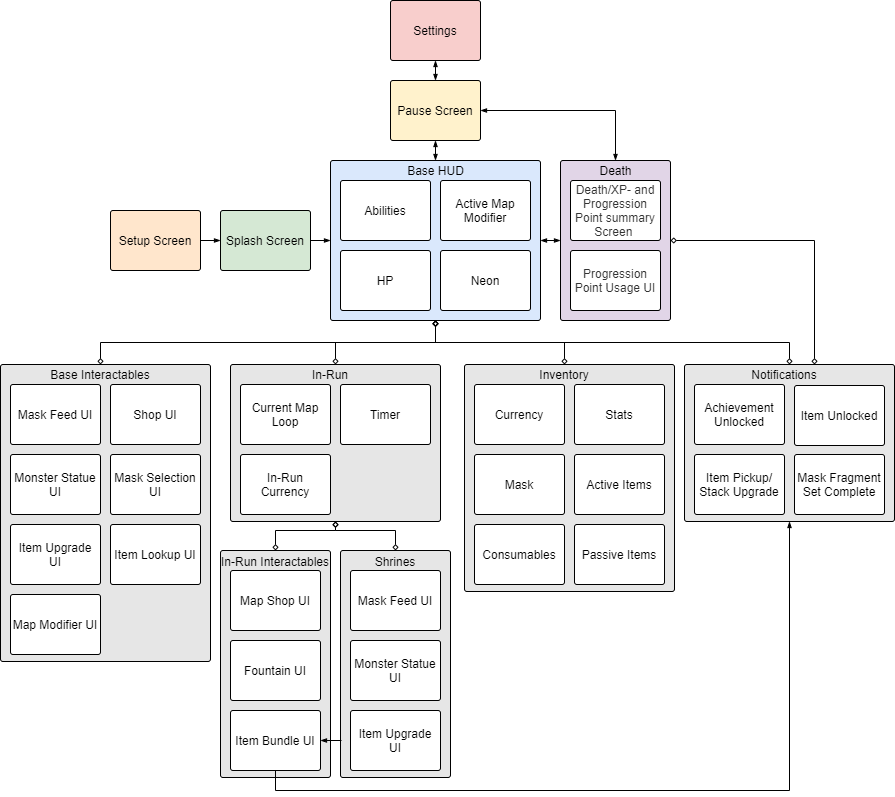 SAVING SYSTEM
---
A saving system will be required to load the players current game progress. Managing multiple saves and starting a new game instead of loading a save should be possible. Saving should only be possible when the player is grounded and is standing still.
Following information will be required to restore a valid game state:
List of unlocked areas
Currently equipped mask with stats
List of known enemies
List of known items
List of unlocked secrets
List of unlocked masks with stats
If the option to save while attempting a run is required, following additional information will be necessary to restore a valid game state:
Current level number
Current player position (Or Platform position the player is close to)
Current player HP
Currently equipped items
List of completed platform IDs this run
After loading the game state, all passive item effects should be applied before setting the current player HP.
SOFTWARE
---
| | |
| --- | --- |
| Game Engine | Unity 2020.1 |
| Version Control | Perforce hosted on Amazon Linux AWS |
| Programming | Visual Studio Community 2019, Visual Studio Code |
| Programming Tools | ReSharper, Visual Assist |
| 3D Modelling | Blender, Maya |
| Texturing | 3D Coat |
| Texturing/2D | Adobe Photoshop, Substance Painter |
| Audio Middleware | Wwise 2019.2.5 |
| Project Management | Miro |
| Documentation | Wiki, G Suite |
| Communiacation | Discord |
| Unity Tools | Odin Inspector, Kinematic Character Controller |

3D-MODELS
---
Characters:
Player Character
Enemy 1
Enemy 2
Enemy 3
Enemy Statues
Dummies
Environment:
Islands
Mountains
Rocks
Neon Fall
Traps
Vegetation
5 Large Plants with Variations
5 Medium Plants with Variations
5 Small plants with Variations
5 Weeds with Variations
Gras
Lianas hanging down and between two points
Buildings
Present/Futuristic-Old/Broken

Lamps
Structures
Frames
Base plates
Bridge
Big Gate
Platforming Elements
2 Building ruins

Medieval-Used

3 Tents
Pedestals
Temple-like Structures
Tiling small channel placeable by spline
5 Walls
3 Fence elements
2 Fountains (base and map)
3 Challenge Shrines
Shrine Base
2 Shops
Item Lookup
Wood walk
Training platforms
Props
ANIMATIONS
---
Characters:
idle
run loop
light_attack1
light_attack2
light_attack3
heavy_attack1
heavy_attack2
dash air loop
jump
mid air loop
land
die
(walk loop)
(stagger)
(hurt)
Player-specific:
(talk with NPC)
(pickup item)
SOUND
---
World:
Atmosphere
Item drop
Combat music
HUB music
portal entry
portal ambient
Wasserfall atmo
Wasserfall impact
Characters:
idle
walk steps
run steps
attack1 swing
attack1 hit
attack2 swing
attack2 hit
attack3 swing
attack3 hit
use special
jump
land
stagger
die
hurt
Player-specific:
talk with NPC
pickup item
use item
dash
ground slam start
ground slam impact
User Interface:
Confirm Option
Back/Cancel
Navigate
Start Game
Item Effects:
NEON explosion
Neo orb spawn
Neon wave spawn and travel
Neon Sphere roll
Neon chain connection
VFX
---
World:
Atmosphere
Item drop
Portal entry
Portal ambient
Neonfall
Neonfall impact
Characters:
Walk steps
Run steps
Attack1 swing
Attack1 hit
Attack2 swing
Attack2 hit
Attack3 swing
Attack3 hit
Get hit
Use special
Jump
Land
Stagger
Die
Hurt
Player-specific:
Pickup item
Use item
Dash
Ground slam start
Ground slam impact
Get healed
User Interface:
Confirm Option
Back/Cancel
Navigate
Start Game
Item Effects:
NEON explosion
Neo orb spawn
Neon wave spawn and travel
Neon Sphere roll
Neon chain connection
SHADER
Neon Fall
Neon lake/river
Portal

PROJECT PLAN
---


TEAM
---

Student ID
2549017
Responsibility

Programming




Game Design

Strengths
Lots of gaming experience
Weaknesses
Not a morning person

Student ID
2547857
Responsibility

Creative Direction / Concept
3D Character

VFX/Particles

UserInterface

Strengths
Idea finding, Iniative
Weaknesses
distraction

Student ID
2548474
Responsibility

Environment Concept

3D Environment

Project Management

VFX

Strengths
Structured
Weaknesses
Presentations

| Term | Meaning | Description |
| --- | --- | --- |
| AOE | Area of Effect | Attacks that deal damage in a large area |
| ATT | Attack | The Damage a player deals per hit |
| Crit | Critical Hit | A critical hit deals significantly more damage than a normal attack. |
| HP | Health Points | The amount of health a player can loose before he dies. |
| UI | User Interface | 2D Elements placed in front of the game giving important information to the player. |
| XP | Experience | Experience points are accumulated over time by fighting and used as measurement for progress |