Potentielles Team
Prof. Dr. Torsten Edeler
Prof. Dr. Jan Mietzner
Prof. Dr. Andreas Plaß (advisory)
Prof. Ralf Hebecker
Aktuelles Ziel: Version 2
ich würde Euch gerne um etwas Hilfe bitten und/oder Euch einladen, gemeinsam etwas weiterzuentwickeln. Da sollte eine Konferenz- oder Journalpublikation bei rumkommen und vielleicht auch ein kleines Projekt / Produkt.
Wir haben vor 2 Jahren locker auf den Spuren von TipToi / TING ganz rohe Nahfeldsensoren-Erkenn-Zeigestöcke mit WiFi gebaut. Unsere nicht optisch, sondern eben Nahfeldsensoren. Die Batterien waren wegen WiFi schnell leer, und so richtig toll funktionierten sie nicht, aber es war ein Anfang. Bild unten.
Ich würde nun gerne entscheiden / die nächste Version konzipieren.
Hauptfragen
Optisch oder elektrisch?
Datenübertragung?
Stromverbrauch?
Was gibt's schon?
Was gibt's schon auf dem Smartphone?
Ziele (in etwa) 
Ultrarobust / Einfache Anwendung / sichere Erkennung der Codes / Sensoren
Kleine / elegante Form des Sticks
Verbraucht wenig Strom / hält lange. Leicht anbringbar, günstig
Die Lichtverhältnisse können sehr wechselhaft sein (sehr hell, sehr dunkel)
Kann mit anderen Devices kommunizieren. Erstmal reicht senden einfacher Signale
Einigermaßen günstig, sodass Verlust nicht ganz so schlimm ist
Vorläufige Recherche
Suchbegriffe: scavenger hunt, treasure hunt, qr code reader, barcode reader, https://en.actionbound.com (Wiki-Seite: https://de.wikipedia.org/wiki/Actionbound), mobile adventures and interactive guides for smartphones and tablets, magic wand
Lesestifte mit Audio-Ausgabe
"Magic Wand" mit UV/IR und RFID
Barcode Scanner Bluetooth mit USB-Receiver
Arduino RFID Reader/Writer
– Das ist basically, was wir auch gemacht haben (RC522 RFID Reader/Writer)
Seltsames Video, keine Erklärungen, aber wir haben genau diese RFID-Karten und -Tags benutzt.
Escape Room Object Placement Puzzle using Arduino/RFID
Generell Media Management
Noch mehr Papers
Interactive Storyrooms
Tools for children to create physical interactive storyrooms
https://dl.acm.org/doi/abs/10.1145/973801.973821
The magic wand
https://dl.acm.org/doi/abs/10.1145/984952.984972
Neue Begriffe
embedded technologies, physical interactive storyrooms, storytelling experiences, physical interactive storytelling environments
ABOWD, G. D. and MYNATT, E. D. 2000. Charting past, present and future research in ubiquitous computing. ACM Trans. Computer-Human Interaction 7, 1 (March 2000), 29/58. Special issue on HCI in the new Millenium. Google Scholar
ALBORNI, H., DRUIN, A., MONTEMAYOR, J., PLATNER, M., PORTEOUS, J., SHERMAN, L., BOLTMAN, A., TAXEN, G., BEST, J., HAMMER, J., KRUSKAL, A., LAL, A., PLAISANT-SCHWENN, T., SUMIDA, L., WAGNER, R., AND HENDLER, J. 2000. Designing StoryRooms: Interactive storytelling spaces for children. In Proceedings of the Conference on Designing Interactive Systems (DIS-2000). ACM Press, New York, 95- 104. Google Scholar
Version 1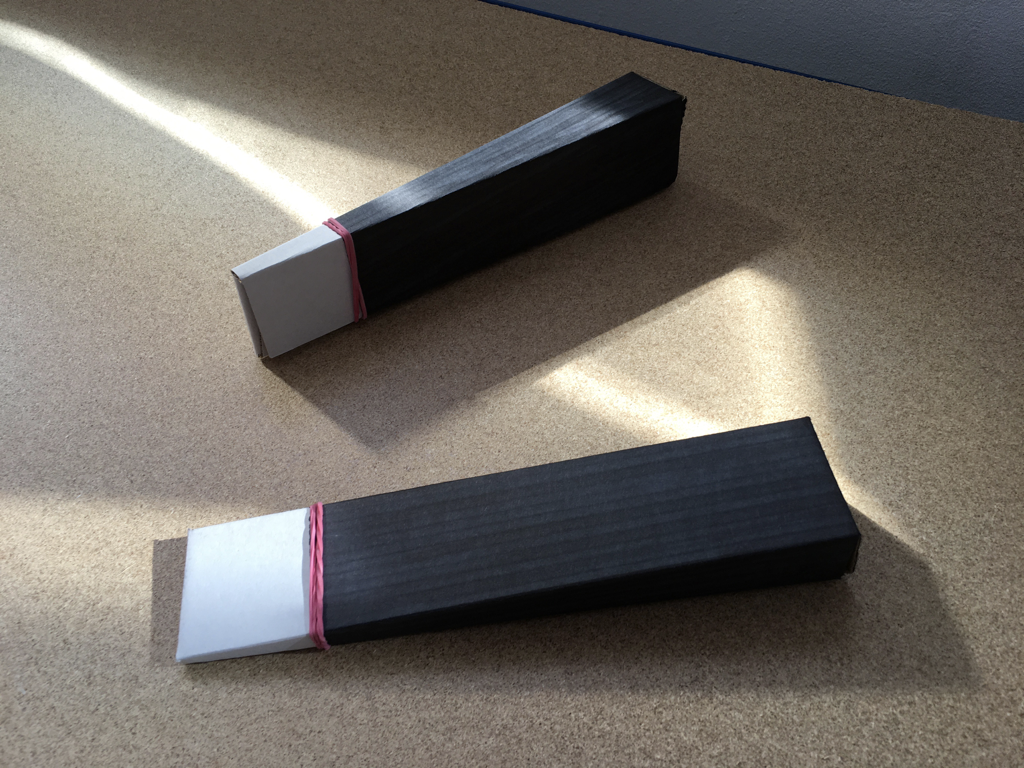 Die Zeigestäbe (pro Team einer mit teamabhängiger Kennung) sind prototypisch selbst entwickelte Lesegeräte für Nahfeldsensoren mit WiFi-Verbindung zum zentralen Rechner. Sie können verwendet werden, um im Raum platzierte Nahfeldsensoren als gefunden zu markieren. So kann beispielsweise hinter eine Abbildung auf einem Plakat ein solcher Sensor angeklebt werden und kostengünstig eine Interaktion mit den gedruckten Informationen auf einer Papier- oder Stoffbahn realisiert werden.
Wir hatten hierfür zuvor TipToi-Stäbe oder die offen zugänglichen TING-Stäbe geprüft. Hier wird die Erkennung optisch mit fast unsichtbaren gedruckten Mustern realisiert. Dies hat sich zumindest momentan noch als die überlegene Methode erwiesen. Unser System bietet allerdings eine Wifi-Verbindung und somit die Möglichkeit, kabellos mit dem zentralen Rechner zu kommunizieren.